Stay Prepared With Fleet & Bus Sanitation Services
With the escalation of the COVID-19 pandemic, everyone is on high alert. While certain locations are able to close operations, perhaps the most essential service remains in operation: transportation. We understand the need to keep your staff and customers safe and protected from the risk of infection. This is precisely why we are introducing our new fleet and bus sanitization service.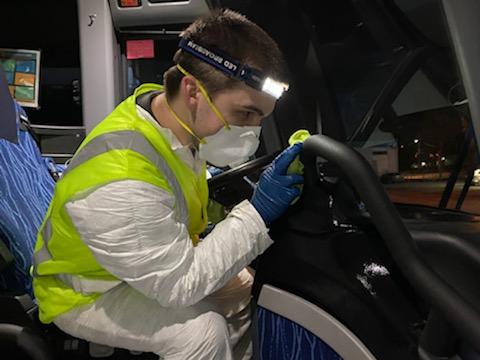 Fleet & Bus Sanitization
If you are managing a large set of vehicles, you know the amount of work that goes into their cleaning and maintenance. Let Mr. Pressure Wash help with effective sanitization methods on demand. We ensure that your entire fleet of vehicles is thoroughly cleaned so that you can mitigate the risk of COVID-19.
Your fleet provides an essential service – but your health and wellbeing are essential as well. Ensure your safety with quality fleet sanitization from a name you know and trust: Mr. Pressure Wash. We use all the benefits of modern science and innovation to clean your fleet to the highest standard of excellence.
For businesses with offices or frequently used areas, we also offer heavy wipe down sanitation. Afterward, we will then run the Ozone machine.
Effective and Eco-Friendly Methods
Using the best practices in cleaning methods and modern scientific innovations, we clean your fleet so that you and your passengers reduce your risk to COVID-19. Ensuring that your business maintains environmental standards throughout this crisis, we offer cutting-edge cleaning approaches including: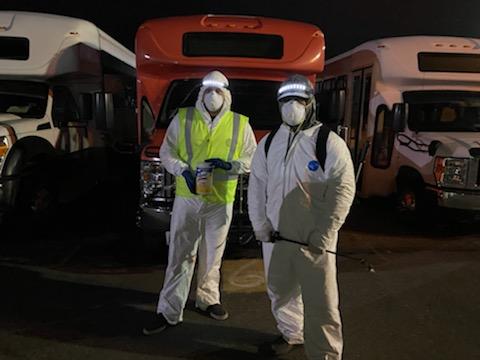 • Bio-Sol Concentrate: Since the COVID-19 virus can live on surfaces for 14 days, it is utterly essential to disinfect your fleet regularly. Chemical disinfectants have proven effective at removing the pathogen from surfaces. Bio-sol concentrate is a naturally sourced disinfectant and virucide which works effectively against the Coronavirus. Using a mix of dimethyl benzyl ammonium chlorides and ethylbenzyl ammonium chlorides, it covers all bases and keeps your fleet's surfaces clean for use. Of course, like all chemicals, it works best when applied by an experienced professional who accommodates all safety requirements. The Mr. Pressure Wash team is here to assist and will ensure the thorough disinfection of all floors, seats, windows, and other surfaces.
• Ozone Cleaning: Due to the fact that the virus is airborne, it is also important to keep the air clean in your fleet. This method works to rid your air and surfaces of pathogens so that you can rest easily knowing your surroundings are clean. A powerful sterilizer, ozone, a triple bonded Oxygen chemical, destroys viruses in their tracks. It also provides a fresh smell similar to that after a storm since that is when nature produces the chemical. However, ozone, when improperly handled, can pose a health risk. To ensure the sterilization of your fleet without adding risk, reach out to Mr. Pressure Wash to get effective and safe ozone cleaning services.
The current COVID-19 pandemic is reaching unprecedented risk levels. It also provides an opportunity to keep your company at the forefront of best sanitization practices while still observing eco-friendly methods. Protect your business interests and yourself by choosing a trusted name for your fleet sterilization services. Reach out to Mr. Pressure Wash today for all your fleet sanitization needs.